AWS responds to Anthos and Azure Arc with Amazon EKS Anywhere
In the re:Inevent 2020 series, Amazon Web Services (AWS) has come up with key strategies for 2021, with many new container-related services and updates. 2021 promises to be the year of the container with many new updates, with Viet-AWS learning about the services, as well as AWS efforts related to containers in the article below.
New services recently updated by AWS
1. Amazon EKS Distribution – An alternative to commercial Kubernetes Distributions
Cloud-native ecosystem has grown rapidly in recent times, customers can choose from a variety of Kubernetes Distributions, from free versions to commercial versions such as Canonical's Charmed Kubernetes, Mirantis Container Cloud, Rancher Kubernetes Engine, Red Hat Openshift, and VMware Tanzu Kubernetes Grid.
AWS has also entered the race to become a Kubernetes distribution channel, with Amazon EKS Distribution (EKS-D), AWS cloud-managed service.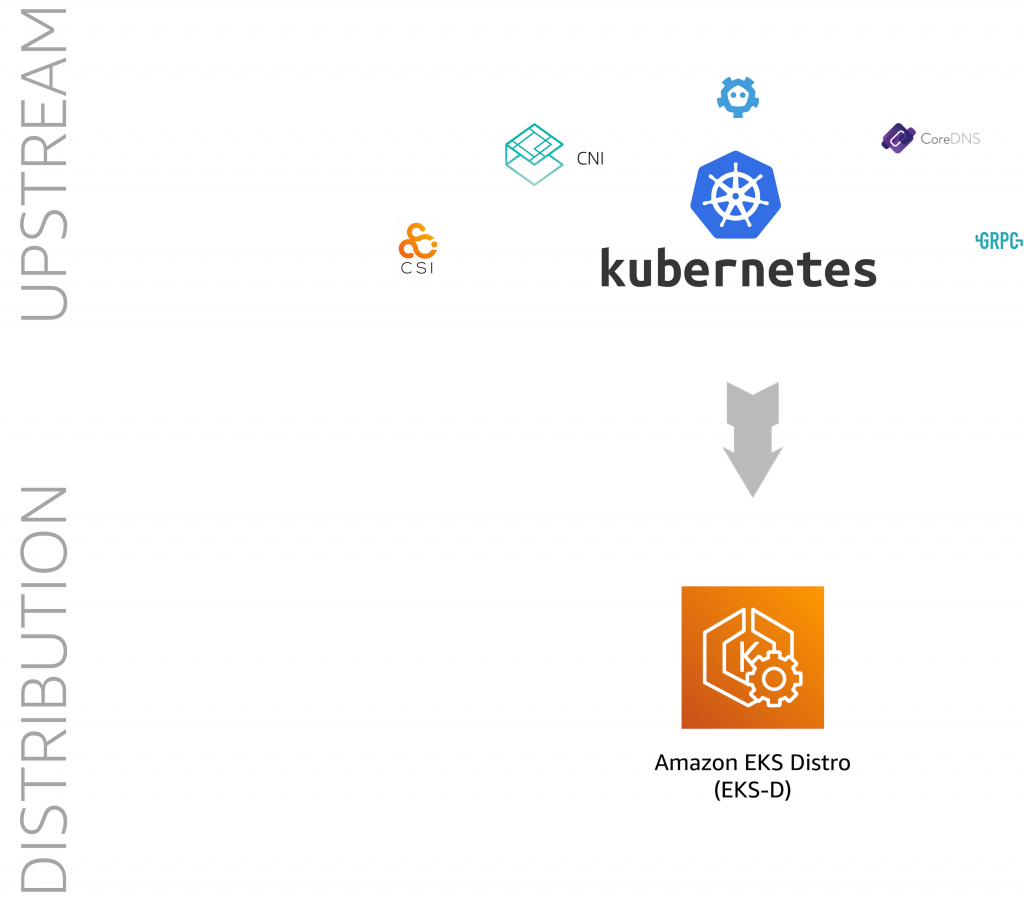 Customers can trust Kubernetes and its dependent components implemented by Amazon Elastic Kubernetes Service, including the latest updates, which support comprehensive security patches.
2. Why did AWS choose to launch Amazon EKS Distro (EKS-D)?
In fact, customers who are using Openshift or VMware Tanzu will simultaneously run the same version of Kubernetes in the cloud. Most commercial Kubernetes distributions will come with hybrid cluster support and management services.
In this case, VMware or Red Hat will take advantage of Amazon EC2 to run their managed Kubernetes. This separates the Amazon Web Services infrastructure from workloads and allows users to migrate applications to any cloud.
AWS has been pushing for the application of its cloud platform, with EKS-D, AWS building an open-source bridge with the AWS-managed Kubernetes platform called EKS.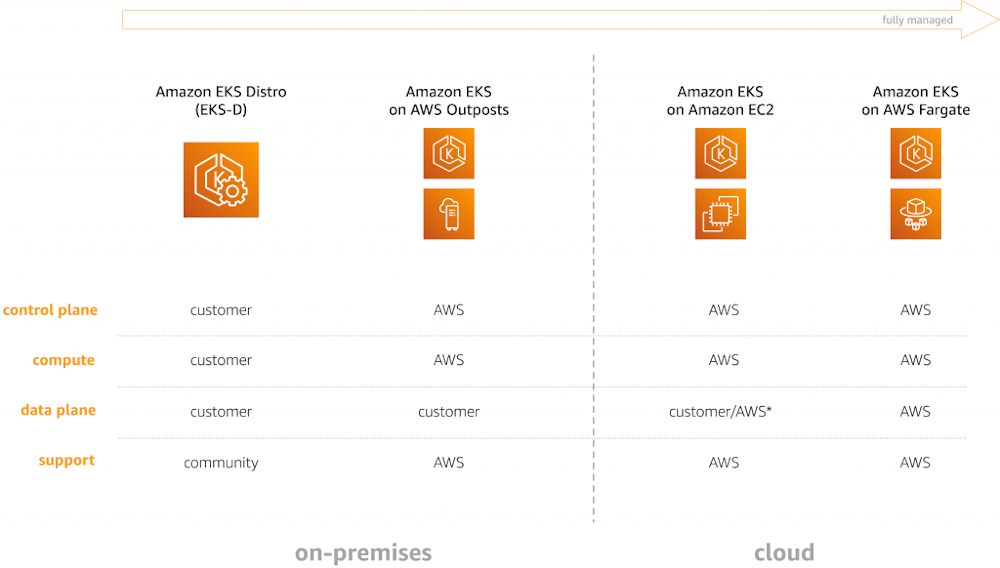 Supported by the AWS team and guaranteed to maintain Kubernetes delivery even if the community version stops supporting it, it's an attractive choice for customers.
In addition, a business that uses EKS-D will naturally use Amazon EKS for workloads that run between their on-premise and cloud infrastructure. This also reduces the risk of using a variety of Kubernetes distribution channels for on-premise and cloud infrastructure.
The right choice for customers
This version is completely free, so customers will most likely consider and choose EKS-D compared to Openshift or VMware Tanzu. With a commitment to maintaining open-source, AWS also shows the effort and level of their investment and EKS-D.
The design of the EKS-D is based on the Kubernetes upstream, making it easy to modify components such as storage, networking, security, and monitoring capabilities. The net cloud ecosystem will have different architectures to use EKS-D with their tools and components. This will make EKS-D more complete.
3. Amazon EKS Anywhere – a competitor to Google – Anthos and Azure – Arc
Amazon EKS Anywhere is a new deployment option for Amazon EKS, allowing customers to easily operate Kubernetes clusters at on-premise infrastructure.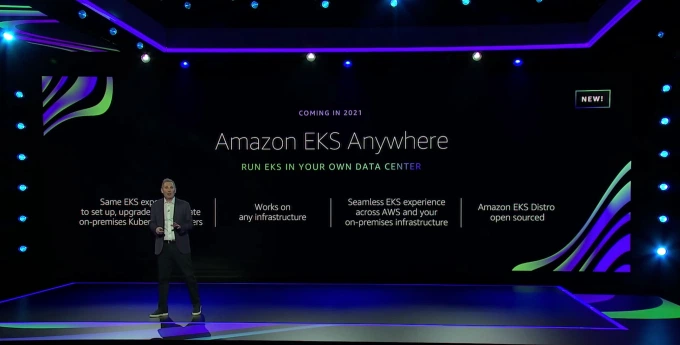 Amazon EKS Anywhere offers software packages for building and managing Kubernetes on-premise clusters, and automation tools to support the life cycle of clusters.
Technically, Amazon EKS Anywhere can be installed on any infrastructure that has compute, storage, and network. This includes IaaS on-premise and other cloud platforms such as Google Compute Engine or Azure VMs.
To put it simply, Amazon EKS Anywhere is an installer for EKS-D with AWS-specific parameters and options. This installer comes with default settings optimized for AWS and works best on Amazon Linux 2 OS, which is calculated in accordance with App Mesh, Cloudwatch, S3.
When installed on the VMware environment, Amazon EKS Anywhere also provides infrastructure management capabilities through integration with VMware vSphere API and VMware vCenter. Amazon EKS Anywhere relies on GitOps to maintain the desired status of the cluster and workload. Customers can subscribe to the Amazon SNS channel to automatically update patches and releases.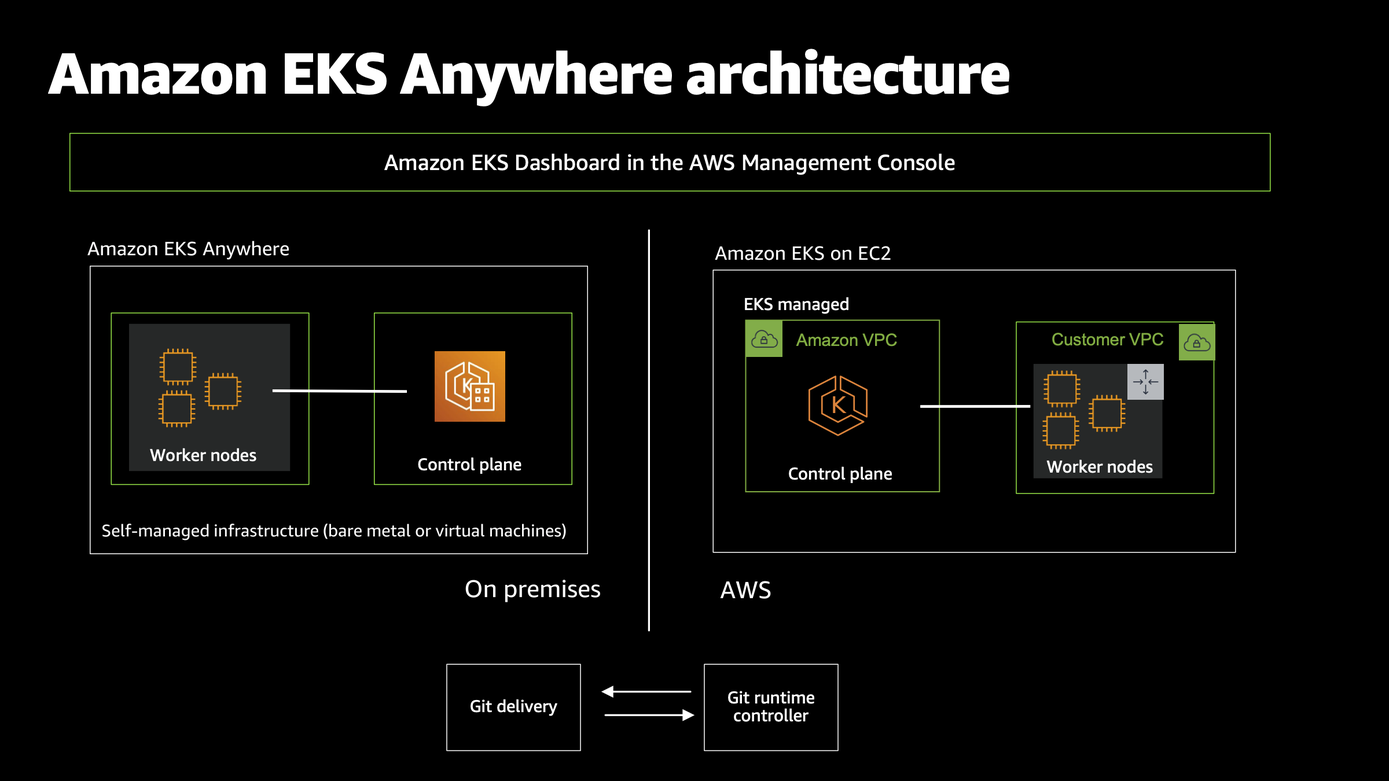 Amazon EKS Anywhere supports three configurations: fully-connected, semi-connected, and fully-disconnected. Unlike Amazon ECS Anywhere, EKS-A clusters can be deployed in offline, air-gapped environments. EKS Anywhere clusters are fully connected and semi-connected to the AWS cloud but are not required to depend on the cloud.
Amazon EKS Anywhere feature
Amazon EKS Anywhere can be easily seen as AWS's own version of Anthos. Like Anthos, it is tightly integrated with VMware vSphere, which can be installed in any other cloud.
The biggest difference of the year in the meta control plane to manage all clusters Amazon EKS Anywhere. Other features such as Anthos Service Mesh (ASM) and Anthos Config Management (ACM) will be expanded to Amazon EKS Anywhere through App Mesh and Flux.

Unlike Anthos, Amazon EKS Anywhere has no concept of admin clusters and user clusters, which means that customers won't be able to use Amazon EKS Anywhere to manage the lifecycle management of clusters.
Every Amazon EKS Anywhere cluster is independent of others with an optional connection to the AWS cloud. This linking structure is almost identical to Anthos' stand-alone mechanism on hardware devices.
Amazon EKS Anywhere is AWS' first multi-cloud software, contributing to simplifying Kubernetes deployment and management, bringing AWS closer to Kubernetes' multi-cloud platforms such as Anthos, Azure Arc, Rancher, VMware Tanzu Mission Control, and Red Hat Advanced Cluster Manager.
Conclusion
Major investments in Amazon ECS Anywhere, Amazon EKS Distribution, Amazon EKS Anywhere play an important role in AWS' containers strategy. They contribute to building a solid foundation for future cloud and multi-cloud services, which is pretty much expected from AWS. Amazon Web Services also shows their relentless efforts in accelerating the process of moving to the cloud.
The community of pure cloud solutions is still growing constantly, and updates on the above services will have a big impact on the trend of technology as well as shifting in 2021.
2021 will be a promising and expected year for businesses who have been using containers or are aiming to use container solutions.